Printable Worksheets Blog - Practice Worksheets For Kids
Interactive PDFs! Choose fonts, colors, and SIZES. Answer. Print or file.
Welcome to our printable worksheets blog, the list of our newest worksheets for kids!
 PrintNPractice Newest Kids Worksheets Blog Pages
May 09, 2017
Printable Worksheets: Practice Homeschool Worksheets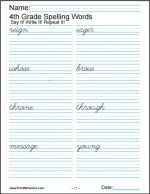 Our PDF free printable worksheets teach children to practice Math, Phonics, Grammar, and Handwriting to make learning easy. Interactive homeschool worksheets!.
Continue reading "Printable Worksheets: Practice Homeschool Worksheets"
New Worksheets Ezine
About once a month, we publish our ezine with updates of new free printable worksheets, flash cards or videos. If you are subscribed to our New Worksheets Ezine you'll receive an email with these updates:
Currclick Worksheets For Kids

My favorite downloads at CurrClick are Math Mammoth, Knowledge Box and NotebookingPages; and there are many more publishers at CurrClick.com who have interesting and sensible printable kids worksheets.
Math Mammoth has excellent topical Math worksheets that flow as a complete Math curriculum. You'll enjoy seeing Maria Miller on her YouTube videos and you can go to her website to generate a multitude of worksheets.
Knowledge Box has many wonderful lapbook and notebooking downloads of kids worksheets for science and many more subjects.
NotebookingPages has a complete collection of many different subjects that you download so as to make your own notebooks for teaching. These are beautifully and interestingly designed and she offers many versions of the same item in case you want a different format as with lined pages or pages that have the triple lines as with the top, middle, and bottom lines.