Order Printable Spelling Worksheets
Master The Spelling Words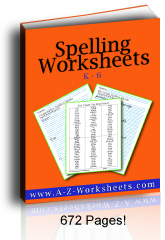 These K-6 printable spelling worksheets offer practice words for spelling practice. Buy the whole download to have all seven levels. 
Each word is offered with space to copy the Spelling words three times each. Print and reprint as often as your students need practice.
Contains 672 pages of practice Spelling Worksheets.
Interactive printables.
Printable Spelling Worksheets Download  $9.98
---
---
Printable Spelling Worksheets For Kids

These spelling worksheets include space to practice each word three times each. This makes for review and reinforcement of the spelling words. The words from each grade level are from an old reader so that they are grade appropriate.
Practice each word three times.
Kindergarten Spelling - Short vowel words that use the most frequent sounds of the twenty six letters of the alphabet.
1st grade spelling words.
2nd grade spelling words.
3rd grade spelling words.
4th grade spelling words.
5th grade spelling words.
6th grade spelling words.
Interactive printables.
Printable Spelling Worksheets Download  $9.98
---
---