Printable Worksheets Blog - Practice Worksheets For Kids
FTC disclosure: I recommend products I think will help you and your children. If you buy through my links I earn ad commissions at no extra cost to you.
Welcome to our printable worksheets blog! See our our newest worksheets for kids below.
Of special interest would be:
 PrintNPractice ⭐Printable Worksheets Blog
Oct 13, 2018
Printable Handwriting Worksheets ⭐ Manuscript And Cursive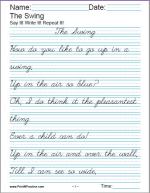 Printable handwriting worksheets teach kids beautiful form; from tracing letters and words to cursive handwriting practice. These are digital download interactive worksheets.
Continue reading "Printable Handwriting Worksheets ⭐ Manuscript And Cursive"
New Worksheets Ezine
About once a month, we publish our ezine with updates of new free printable worksheets, flash cards or videos. If you are subscribed to our New Worksheets Ezine you'll receive an email with these updates:
Currclick Worksheets For Kids

My favorite downloads at CurrClick are Math Mammoth; and there are many more publishers at CurrClick.com who have interesting and sensible printable kids worksheets.
Math Mammoth has excellent topical Math worksheets that flow as a complete Math curriculum. You'll enjoy seeing Maria Miller on her YouTube videos and you can go to her website to generate a multitude of worksheets.
For more printable worksheets see our: