Printable Phonics Worksheets
Help Kids Spell, Read, And Write the Sounds
Interactive PDFs! Choose fonts, colors, and SIZES. Answer. Print or file.
Phonics is like an adventure. Which sounds reveal the word? If children are to read and write easily, they need the code and they need to practice. Where will they find time to practice?
With these worksheets, videos, and flash cards. The ch- worksheet in the image to the right is an example of the exercises you'll see below.
You can use our videos and printable flash cards with our phonics worksheets to teach and practice learning the sounds. The videos make it easy to get the right sound with the right letters
For our ESL and EFL friends, remember that most of the sounds, especially the consonants, will be the same as what you already know from your own language. You might say it with a different accent.
There are children who can read by the time that they are five years old when they are taught using Orton methods. Older children often "catch on" and "catch up" within a few weeks, simply because they know the sounds on this page.
There are 45 printable worksheet downloads on this page that you can use with any phonics or alphabet system. If you're not using an Orton based system, you may want to use the phonogram videos at the bottom of this page. 
If you're using a PC, you can see each worksheet before you download it, or you can print it from your screen. As per the note above, you can also save these to an account for your children to have them practice while using a computer. They love being able to choose their own colors and fonts. After the work is done, you can still print it if you'd like.
1. The first two phonics downloads on this page cover the 72 Orton phonograms which include the 26 alphabetical letters.. 

If you say the sounds as your beginning students practice writing them, they will learn them better, and this will also help those who aren't able to write from dictation yet.
Use these to help your older students practice saying the letter sounds as they write them.
Some of these downloads have 3 to 12 pages.
2. Jump down to our worksheets with Phonics practice below. We also have phonics videos in the left column and at some of these links:
1. Phonogram Worksheets: Copy And Practice
Why do these have such small lines? Give it a try. You may not ever use the giant ruled lines for your students again. A large rule makes it so hard for kids to be able to write smaller in third or fourth grade. They find it extra hard to make capital letters taller than the rest of the word.
You'll find that it is so much easier for your kids to write smaller from the start and they can skip the transition grief in later years.
Very little children can trace and copy the top line while saying the sound with you.
This copy exercise can be expanded to include handwriting practice if the children are learning to make their letters. Simply have them write the letters three times on the same line. 
For older children you can also add words that use the sound to be copied.
Bookmark this page on your phone to use the printer at school.
You can find our trace and copy larger ruled printable Alphabet Worksheets and Phonics Flash Cards here.
2. Printable Phonics Worksheets With Practice Words
The first set of Phonics worksheets has 11 pages that teach the first sounds and the short vowel sounds and is great for Preschool and Kindergarten.
So many times, especially with older children, it is good to teach the sound and have them review by going to the board to think their way through the words and their sounds. Then the worksheets are an excellent review of what they have just learned.
The treasure here is that the words are already written so that there's not so much danger of misspelling when practicing the sounds or handwriting. Watch that they think to spell though. Thinking what the sounds say will make remembering them so much easier and faster.
The rest of these worksheets have 2 to 6 pages for practicing the different multi-letter phonograms. They are in alphabetical order so that you can find the worksheets you need easily. Use them with these videos depending on the level of your children.
Phonics Activities Beginner (The first 26 phonograms.)

Long & Short Vowel Videos (Practice the vowels.)
Advanced Phonics Lessons (All 72 phonograms.)
Free Phonics Worksheets
Write The Phonics Words Three Times Each
Alphabet Phonics Worksheets - The first PDF bundle here has 11 pages for the first sounds of the 26 letters. The list has words that start with the letters in alphabetical order so you can review the consonant and short vowel sounds as you teach the alphabet. Most of the words use the short vowel sounds as with short a, e, i, o, u. These are excellent first grade short vowel activities.
ER Words - The next five have 2 to 6 pages of phonograms for the er, ir, ur words. Some of these have er ending words, etc. 
Multi-Letter Phonograms - The rest of the bundles are in alphabetical order.
Short Vowel Sounds and Er, Ir, Ur Words
Multi-Letter Phonograms And Long Vowel Phonics Worksheets
These PDF multi-letter phonogram worksheets are in alphabetical order and include long vowel phonemes ai and ay, ee, igh, oe, oa, oi and oy, or.
See also consonant digraph worksheets ch and th.
You can use many of these as long vowel worksheets for teaching the long vowel phonemes.
3. Using Our Phonics Worksheets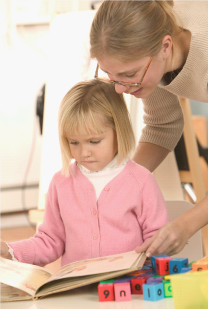 Most of our worksheets have two to four pages for extended and varied practice. These worksheets and printable Phonics flash cards for teaching the Phonics sounds have three lines printed (top line, mid-point, and base line) so the children can see where letters of the alphabet sit and where the descenders descend below the base line as with the g, j, and p on the phonogram cards . Hopefully this is helpful to you, it was a huge help to me. You can even put these lines on the board.
Be encouraged to teach Phonics at any stage of learning to read or write. When there's a reading or spelling fault, remind and review the rule or the correct sounds.
Explicit instruction of the isolated phonemes or phonograms - teaching the alphabet sounds - offers kids a measure of certitude and phenomenal tools for future success. If the review is quick and sweet, the lesson is learned more easily and your children won't chafe at repeating the review later.
Once the basic sounds are taught, any spelling, vocabulary, writing, or reading comprehension worksheets become phonics worksheets as well.
The Phonics lessons related to Dr. Orton's methods that use dictation are the methods that we recommend most like Spalding, Schola Publications, Riggs, Dettmer, etc. Dictation to students who are familiar with the the Phonics sounds and the Phonics rules is the best method to explicitly teach the alphabet to any student, young or old, who wishes to read and write well and to retain those skills.

This being said, we all know that it can also be hard to find the time necessary to be able to dictate the repeat practice and drill that is necessary for mastery of the phonic sounds. You can use these printable Phonics worksheets, printable flash cards, and videos to add practice to your own phonics lessons.
You can use the videos for audio-visual reinforcement. On these Phonics videos the flash cards have the phonic sounds together with the right letters - No more saying the wrong sound with the right card! This is SO important. Also, the cards will always be right-side up.
4. Romalda Spalding's Writing Road To Reading
Check Romalda Spalding's The Writing Road To Reading. She really emphasized that review is important.
I spent a over a year teaching phonics without realizing the need for quick and frequent review. Now that I do more review, my results as a teacher are WAY better. 
Other Orton Programs With Phonics Worksheets
I also learned a great deal from Mrs. Barbara Beers' 

Phonics Road

 videos. They're next best to having a real teacher to help you. I know a girl who was taught for kindergarten with the first level in about 9 months who tested at a second grade level. 

I have a Spanish speaking neighbor who used these DVDs as a way to learn to speak and spell English better. She'd asked fr help so I wound up doing what Mrs. Beers does in her videos. We were both so glad that she could use the DVDs at home. Read more about 

Mrs. Beers' Phonics Road

 here.

I've been very happy to have used Wanda Sanseri's

Spell To Write and Read

. Her pre-formed notebooks are a huge savings in classroom time and in children's understanding of what they're doing. Her entire program is very cost effective and made so that the teacher can learn the system as she works.

If you're interested in a level by level approach you would want to look at All About Spelling by Marie Rippel. Deanna Caswell from Little Schoolhouse in the Suburbs gives an excellent comparison between AAS and WRTR here.
5. Phonics Teacher Tribute
I have dedicated these free Phonics worksheets and our other Phonics activities to the memory of my Dad who was a super teacher and had spent time learning Phonics in Phoenix at 70 years young and then came home to teach his grandchildren.
In the few years left before his death, he taught the children of over 60 families the sounds of the phonograms– for free! Everyone was welcome: Moms, Dads, babies, toddlers, and - of course - students! 
I dedicate these Phonics activities to the memory of, my Dad, who was a super teacher and to serving as many children as I can. Mom would have done the same if she'd have had the health for it. I am so grateful to have had very good parents. May they rest in peace.
Even slower students who know the Phonics rules and who become handy with the Phonics sounds begin to advance quickly as soon as reading makes sense to them. Once any student has the basic reading skills he is free to read, and thereby, to learn almost anything!
Most students still need Phonics lessons and review throughout the early childhood learning and elementary education years so as to learn the Phonics rules for bigger words.
6. PrintNPractice Reading Resources
Phonics And Reading Downloads
Buy the whole collection of our phonics or reading worksheets. This way you have easy access to helping your students excel in necessary reading skills and you will not need to be on the internet. Phonics practice at it's best!
Buy Phonics Worksheets Download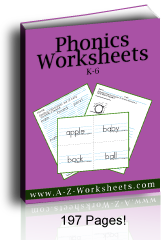 Printable Phonics Worksheets
Buy Stevenson's Garden of Verses PDF Worksheets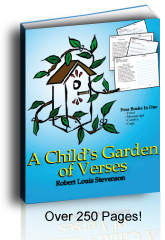 Garden of Verses Worksheets
---
More Phonics Worksheets, Videos, and Books
---
---
---