250 Manuscript and Cursive Handwriting Sheets For Kids
A Child's Garden of Verses
Robert Louis Stevenson

You'll love A Child's Garden Of Verses manuscript and cursive handwriting sheets as a wonderful way to teach your student beautiful writing. What better way to learn to write well than to use interesting poetry?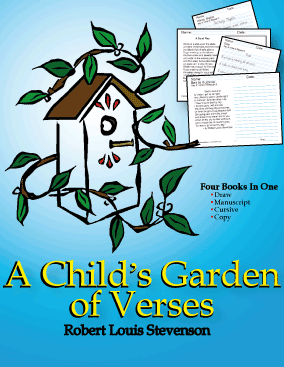 Stevenson's A Child's Garden of Verses: Cursive Handwriting Sheets
---
Robert Louis Stevenson wrote beautiful poems that charm children and adults alike.
Now your students can enjoy 61 of his poems while they learn to write nicely.
Over 250

handwriting worksheets.
Kids love to learn that Stevenson wrote many of his poems when he was just a boy!
Free

Samples Of Practice Manuscript And Cursive Handwriting Sheets

Four samples of "The Swing", by Robert Louis Stevenson.

All of the poems are in all of these four learning formats:
1. Kindergarten Listen And Draw Worksheets
Preschool Kindergarten Drawing
2. Handwriting Practice Worksheets
Manuscript Handwriting Sheets
3. Beautiful Cursive Handwriting Practice Worksheets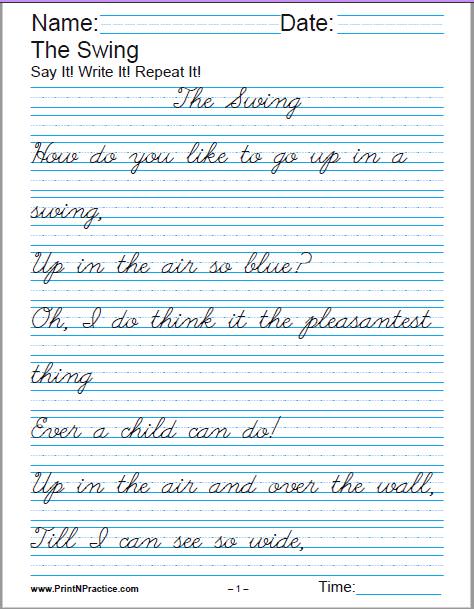 Cursive Handwriting Sheets
4. Manuscript Or Cursive Handwriting Sheets
Your choice. Manuscript or cursive handwriting practice.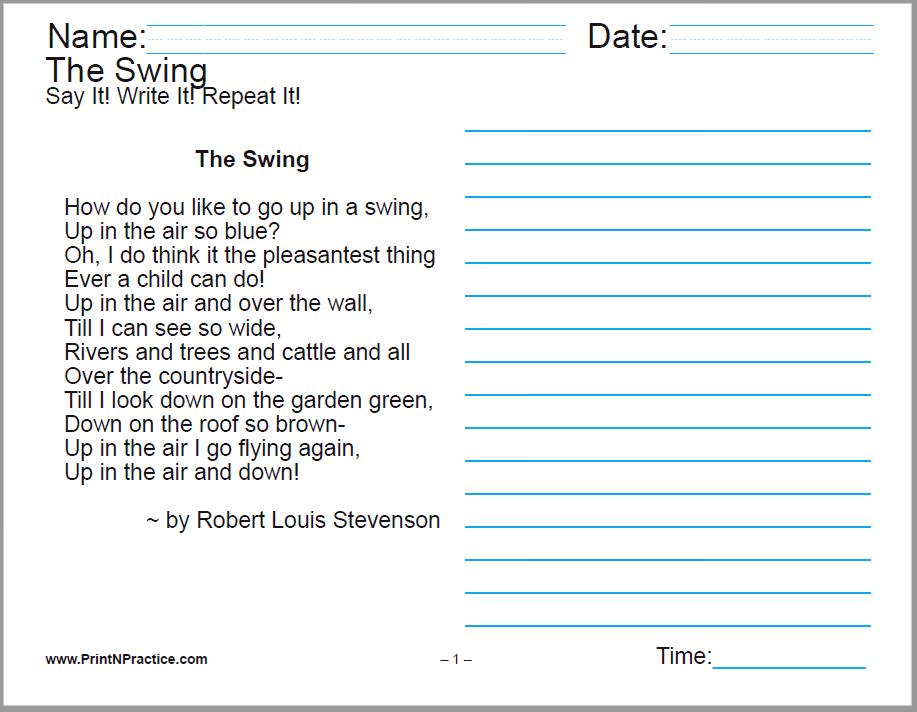 Poem and Lines Copywork
---
Printable Handwriting Worksheets
You'll receive four bundles of handwriting worksheets of texts from A Child's Garden of Verses in several formats:
Read and draw a picture. 
Manuscript handwriting worksheets.
Cursive handwriting sheets. 
Copybook method.
These are in four separate files so you're actually receiving four downloads of PDF handwriting worksheets.
A Child's Garden of Verses - Robert Louis Stevenson
We have taken each of these poems and put them in four levels for you to choose which is best for your child:
Level One: Has the poem written with a place for the student to draw a picture.
Level Two: Has the poem written on lined paper in manuscript with a blank line for the child to copy.
Level Three: Similar to Level Two but in beautiful cursive.
Level Four: Has the poem written on one side and plain lines to copy the poem on the other side.
61 Cursive Handwriting Sheets x 4 Styles
One of my favorite Robert Louis Stevenson poems is "The Swing". It's nice and sing-song-y with a swinging rhythm which makes it fun for kids to memorize. "My Shadow" is a great first poem, too. Kids think it is funny.
Choose your favorite poem in your favorite style or format:
picture, 
manuscript, 
cursive, and 
copywork.
List of Robert Louis Stephenson's Children's Poems
Bed in Summer Poem
A Thought
At the Seaside
Young Night Thought
Whole Duty of Children
Rain
Pirate Story
Foreign Lands Poem
Windy Nights
Travel
Singing
Looking Forward
A Good Play
Where Go the Boats
Aunties Skirts
Land of Counterpane
The Land of Nod
My Shadow
System
A Good Boy
Escape at Bed Time
Marching Song
The Cow
Happy Thought
The Wind
Keepsake Mill
Good and Bad Children
Foreign Children
The Suns Travels
The Lamp Lighter
My Bed Is a Boat
The Moon
The Swing
Time To Rise
Looking Glass River
Fairy Bread
From a Railway Carriage
Winter Time
The Hayloft
Farewell to the Farm
North West Passage
The Unseen Playmate
My Ship and I
My Kingdom
Picture Books in Winter
Treasures
Block City
Land of Story Books
Armies in the Fire
The Little Land
Night and Day
Nest Eggs
The Flowers
Summer Sun
The Dumb Soldier
Autumn Fires
The Gardener
Historical Associations
To Willie and Henrietta
To Minnie
To My Name Child
Interactive

Handwriting Worksheets 

You can save time, paper, and ink by copying the PDF worksheets to your children's computer files. They can finish their A Child's Garden of Verses work there.
Digital downloads.
Online classroom.
Save the price of time, paper, and ink.
Your kids can practice typing.
You can always find their homework.
Always lovely material. No agenda. :-)

Pictures, manuscript, cursive, and copywork.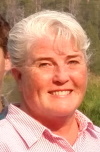 Mary Fifer
(Webmaster, PrintNPractice.com)
Mary Fifer, BSBA is webmaster, author, and researcher at PrintNPractice.com. She has created elementary school practice exercises using digital interactive worksheets. Printable and perfect for today's teachers, tutors, homeschoolers, and students!
Thank you for visiting and for sharing. :-)