~ Practice Printable Worksheets ~
Easy Practice And No Pressure
If you use copywork and free printable worksheets, you'll LOVE PrintNPractice.com!
Printable Homeschool Worksheets By Subject
PrintNPractice worksheets are a wonderland of free printable worksheets that offer basic practice, created with kids in mind. 
For teachers, tutors, and parents teaching children.
Printable and customizable worksheets. You can make notes before printing.
Students can work on the computer. Saves ink, paper, and clutter.
Thousands of free worksheets - or buy them bundled. We want everyone to be able to use these worksheets. :-)
If you have had times when you did not have time to help your kids practice certain concepts, and if there was no way you could hire a tutor because it takes too much time, money, and heartache; scroll through this page. I invite you to discover how interactive PDFs can help your students or your own kids.
1. Most Lesson Plans Need Practice Worksheets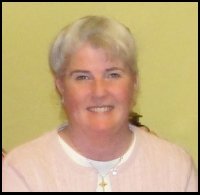 Hi, I'm Mary Fifer.

As both a parent and past teacher, I know what it is like to see children struggle with incomplete curriculum.  So often the ideas are presented in a scattered manner.
I needed quick supplementary work for our kids that I could trust, that was taught in a logical order, and I'm here to offer you the same. Use the professional printables on this site as your "tutor in a download".
Our Phonics, Grammar, and Math printables give space for kids to review the basics, and they'll study the facts in learning order. These worksheets are interactive, meaning that kids can answer them on the computer or on a printed sheet. These are great printable or interactive homeschool worksheets.

---
Interactive PDFs! Choose fonts, colors, and SIZES. Answer. Print or file.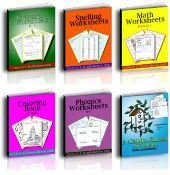 PrintNPractice Printable Worksheets by Subject
---
If you want effective ways to improve your kids' ability to read, write, and figure without complicated or high tech programs, or slanted agendas - our worksheets are for you.
We've created our sheets so that children can practice the Pre K to 6th grade subjects easily and with minimal supervision.
We also have scores of videos and printable flash cards to make teaching your kids easy.
Our practice worksheets are in PDF format so they are easy to print or to file. Discover the self study work benefits of our Practice Worksheets here.

2. Print And Practice: Kids Get It Right the First Time
Buy the bundles. We have thousands of free printable worksheets on the site, yet for your convenience you can also buy them by the bundle. This way they're already organized in files.
The main printables on this website are divided by subjects and by grades.
Click the subject where your students need help and choose the practice printables that match your program.
Our left navigation and search bars are helpful and our blog has the list of our latest free printable worksheets.
Children learn better when they know the basics.
Your goal is to make it easy to teach your students the basics.
My goal is to make teaching the basics easy for you and your students.
This website is full of interactive and printable resources that meet this goal. See below for how to customize these interactive worksheets.
Or skip the search and buy them in bundles to keep them handy in your own files. Welcome and enjoy!
3. What Are Interactive Worksheets?
Interactive Printable Worksheets. These are made so that you can fill them in or make notes to them and either file them or print them. This means that you as teacher can add notes or that your students can do their work on the computer.
Organized. Think of this page as the introduction to a book about making individualized worksheet sets for your children. Then think of these sections as the subjects and the chapters.
Safe. There are no programs attached to these worksheets. They're interactive in a way that you control, not with some hidden organization somewhere else.
New. Why do other sites not have this capability? Because these PDFs take a lot of page-by-page publishing work, the information is hand made - not computer generated. 
Download PDF to student files.
You can add notes or your students can answer.
Print or file as you like. 
Interactive worksheets are rare because this is a new technology that enables you and your students to write on our PDF worksheets in your favorite fonts, colors, and sizes. Print or file. Perfect as homeschool worksheets - so easy to use.
4. Free Printable Worksheets In PDF
I am so relieved when websites offer PDF downloads that you can see before you print. That's why the interactive printable worksheets on our site are all free pdfs. There's no need to download before you see what you get.
Our free worksheets are printable from the screen or from your own files whether you download them individually or buy the bundles. No mystery surprises.
If you want to personalize and save the changes, you'll want to download them first - after you get a look. :-)
Free Math Worksheets: The Right Answer The First Time
Copy work gives practice. Interactive worksheets can be copied to the student's file, finished on the computer, filed or printed. Some children love using the computer to finish their work.

Children can copy the equations three times each, use the printable flash cards, and watch the flash card videos.
Printable Math worksheets make learning the Math facts easy.

Free Phonics Worksheets: Say the Sound While Writing
Say the sound, write the letter.
Kids copy the words that model the phonics sounds three times. The assignment can be finished on the computer and filed, or printed and hand written because these are interactive worksheets. You and the children can type on these pages before you print them.
Use the printable flash cards or the phonics videos to teach the sounds of the letters and start kids reading fast. See our Printable Phonics Worksheets and Videos here.
Free Grammar Worksheets: Diagrams and Sentences
See our an awesome diagramming chart that places the titles of the parts of speech (not just the sentence's own words) on the charts and awesome Grammar definitions with practice worksheets.

I also recommend Karen Newell's and Erin O'Brien's wonderful Grammar programs. They have printable worksheets, too. Let them make teaching Grammar easy for you.
See our Printable Grammar Worksheets.
Free Spelling Worksheets: Spell it Right From The Start
These free printable worksheets have the spelling words with space to copy them three times each. Remember that practice makes perfect.
These interactive worksheets help kids review for their spelling test on Friday. Because they are interactive the children can answer them in their own files on the computer. File or print.

These are awesome for making sure that the children spell the words right every time. They're super easy to grade.
See Printable Spelling Worksheets here.
The Joy of Fun Coloring Pages to Print!
Teachers write to thank us for our interactive printable worksheets.
My husband and I bookmark and use these interactive worksheets ourselves  with our own children and now you may do the same.
Thank you for visiting and for sharing. It's fun to stay in touch!
Did you ever find a wonderful website with wonderful ideas that you enjoy on your first visit... then it's hard to find that site again? Stay with us by signing up for our near monthly PrintNPractice ezine to see our newest treasures!

---
Sign Up For Print
N

Practice Monthly Ezines Here:
Search Print
N

Practice Worksheets Here: