Printable Second Grade Worksheets
Practice For Perfection
Our printable second grade worksheets help your students practice the basic math, phonics, and writing facts as they learn them for the first time or as they need to review what they have already learned. Jump to our Second Grade subjects here:
See our phonics and math worksheets, flash cards and videos that many second grade children study in a year.

Be encouraged to stay in touch! Join my free newsletter....

Join To Receive My Free PrintNPractice Newsletters!
Free Online Worksheets For School, Homework, And Homeschool Practice
Free Online Teacher Resources - Free Homeschool Curriculum
For teachers and parents: PrintNPractice free printable worksheets are all copyright-free, digital activities for students. Use in homeschool, interactive notebooks for online classrooms, Google classroom, distance learning, tutoring and learning pods, and hybrid school. 
No prep.


No tracking.

Self learning.

Copyright free.

Lifetime license.

Diverse learners.

Easy drill-and-kill.

Interactive worksheets.

Printable morning work.

Paperless morning work.

Go printable or paperless.



Stay on track. Summer review.

Easy elementary school curriculum.




Remote learning packets or homework.

Most need no answer key or key is included.
Videos for audio and visual learners. God bless headphones!
See free teacher, homeschool, digital interactive school-at-home learning exercises with no login, no sign-up, no voucher, no account, and no credit card. Loads of digital activities for device-based learning. As seen at TeachersPayTeachers.
Many curricula today do not offer children a chance to learn the facts in order, or in a constructive way. We have built Math worksheets that let your students practice the equations three times each, and phonics worksheets that have your children copy the spelling of the words three times.
You can supplement your own lesson plans for second grade with worksheets, flash cards, and videos.
Printable Second Grade Worksheets
1. Second Grade Math Worksheets
When I teach addition, I like to teach subtraction at the same time. Our addition and subtraction worksheets make this super easy.
The children realize that the same three numbers are involved and they make the association between the tables better.
Of course, multiplication and division are the same way.
Second Grade is a great time for children to learn the 2s, 5s, and 10s of multiplication and many are very able to learn all twelve tables.
Using or counting money includes the 5s and 10s so this is a great time to make that association, too.
945 PDF Math worksheets.

Buy K-6 in one digital download.

No ads.

Filed by topic.

Interactive. Printable.

Use with any Math Lesson Plans.

Addition, Subtraction, Multiplication, Division and Fraction Practice.
2. Second Grade Reading
3. Second Grade Spelling
Offer your students plenty of review time. Simply repeating the spelling, even saying the spellings out loud will help them remember the spellings.
Taking the time to write the words is even more helpful.
Teaching them to say it while they write is best. This also helps them learn to read better.
If you are tutoring or homeschooling you can judge the individual amount of time that it takes your students to learn these words because some children learn them easily in one lesson others take much longer.
These next two free printables have many pages of second grade spelling words. These second grade words are above the first sounds. The verbs offer several of the verb forms for spelling rule practice. 
The first download has the five pages of spelling words only and is handy to print on card stock to keep in a binder. 
The second set has 92 including the above reference list of five pages and the second grade spelling worksheets.
Printable Second Grade Spelling List - 5 Pages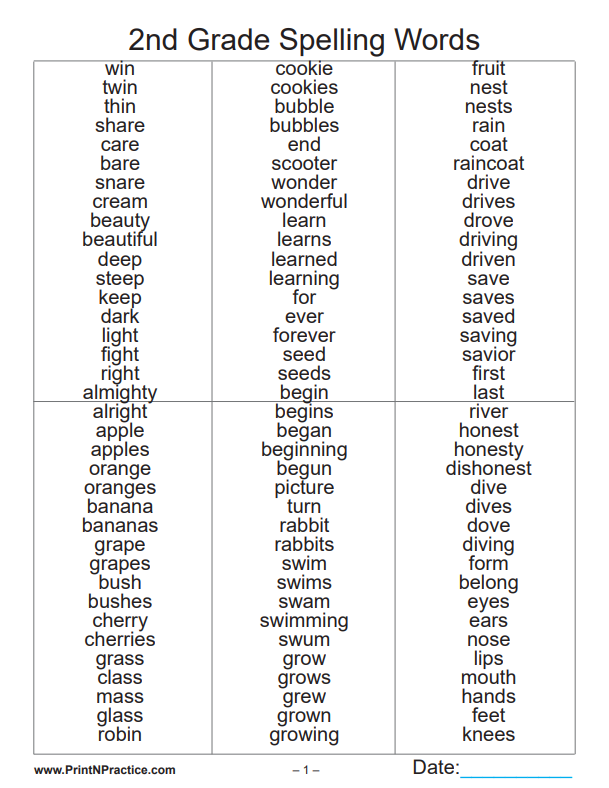 Second Grade Spelling Word Lists 5 Pages
Printable Second Grade Spelling Worksheets - 92 Pages

This digital download has the five page reference list and eighty-seven pages of worksheets for copywork.
Second Grade Spelling 92 Pages
See our phonics worksheets, flash cards, and videos on our main phonics pages.

You can also buy the spelling lists and worksheets for all seven grades K-6 bundled in convenient files.
See our printable lined writing paper page for blank spelling paper.

4. Second Grade Writing
Students are frequently taught cursive in second grade writing classes. They're also learning to write their own sentences.
You'll find that dictation can your students to learn independent writing in the long run.
Their own minds work through the sounds and rules for writing words and sentences and this requires that they know the sounds and the rules and a touch of Grammar.
Thank you for visiting our printable second grade worksheets!
~Mary
Buy Our Phonics Worksheets In Bundles: Phonics, Spelling, And Reading
Buy the bundle of our online phonics worksheets in one digital download for ad-free access to phonics practice for your elementary school students at school or at home.
BONUS: It includes our cursive writing worksheets.
Homeschool worksheets for spelling practice and Robert Louis Stevenson's poetry handwriting worksheets make great ESL printable worksheets. Enjoy!

More Phonics Worksheets, Videos, and Books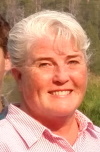 Mary Fifer
(Webmaster, PrintNPractice.com)
Mary Fifer, BSBA is webmaster, author, and researcher at PrintNPractice.com. She has created elementary school practice exercises using digital interactive worksheets. Printable and perfect for today's teachers, tutors, homeschoolers, and students!
Thank you for visiting and for sharing. :-)

Be encouraged to stay in touch! Join my free newsletter....