Kindergarten Printable Worksheets
For Practice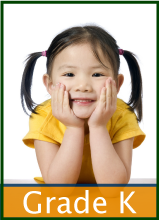 Kindergarten can be the most wonderful time to teach your children. School and learning are a fresh wonder and they are eager to see what's next.
Let these Kindergarten printable worksheets ease your day:
Your students will have an easier time learning to read, write, and figure if they have practice worksheets to aid them in their learning.
Old timers copied their letters and figures, your students can, too, with little parent or teacher involvement.
Be encouraged to stay in touch! Join my free newsletter....

Join To Receive My Free PrintNPractice Newsletters!
Free Online Worksheets For School, Homework, And Homeschool Practice
Free Online Teacher Resources - Free Homeschool Curriculum
For teachers and parents: PrintNPractice free printable worksheets are all copyright-free, digital activities for students. Use in homeschool, interactive notebooks for online classrooms, Google classroom, distance learning, tutoring and learning pods, and hybrid school. 
No prep.


No tracking.

Self learning.

Copyright free.

Lifetime license.

Diverse learners.

Easy drill-and-kill.

Interactive worksheets.

Printable morning work.

Paperless morning work.

Go printable or paperless.



Stay on track. Summer review.

Easy elementary school curriculum.




Remote learning packets or homework.

Most need no answer key or key is included.
Videos for audio and visual learners. God bless headphones!
See free teacher, homeschool, digital interactive school-at-home learning exercises with no login, no sign-up, no voucher, no account, and no credit card. Loads of digital activities for device-based learning. As seen at TeachersPayTeachers.
PrintNPractice worksheets are free, easy to print and easy to use. We keep our worksheets easy on the ink.
Enjoy our ever growing list of printable Math sheets, Kindergarten Reading and Writing worksheets and other Kindergarten activities. We love kindergartners, and love creating free printable worksheets for them!
Kindergarten Printable Worksheets Selection

1. Kindergarten Math Worksheets
We love children and want to make their day filled with learning - by way of practice.
Our Kindergarten worksheets teach writing numbers, math shapes, and the math facts that you can use as you please. Your students can learn writing numbers, math shapes, and the basic math facts.
Learning to count and write the numbers are the most usual skills necessary for Kindergarten math. Practice makes these skills easy.
List Of Printable Kindergarten Math Worksheets
945 PDF Math worksheets.

Buy K-6 in one digital download.

No ads.

Filed by topic.

Interactive. Printable.

Use with any Math Lesson Plans.

Addition, Subtraction, Multiplication, Division and Fraction Practice.
2. Kindergarten Reading
My favorite Kindergarten reading programs are those that relate to Dr. Orton's findings. Actually, the phonics part of his work had been known for many years deep into the 1800s. Well, way longer if you go all the way back to the Phoenicians who invented letter symbols for sounds. 
The sounds of the letters are what make letters into meaningful words. We don't say the names of the letters as we read, only as we spell.
If you use our Kindergarten printable worksheets with this in mind, your students will remember more of their work longer.
List Of Kindergarten Reading Worksheets
Phonics Worksheets and Flash Cards Worksheets and Flash Cards have ruled lines.
Long and short Vowels Video - Learn the long and short vowel sounds.
Alphabet Worksheets - With space to trace and copy.
Reading Worksheets - With nursery rhymes, Pledge, & Star Spangled Banner.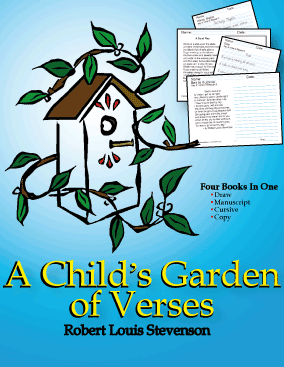 Buy Garden of Verses Manuscript Handwriting and Cursive Writing Worksheets, 250 pages.
11 Kindergarten Phonics Worksheets
These eleven English phonics worksheets for kindergarten teach the short vowel sounds as in the videos at the link above.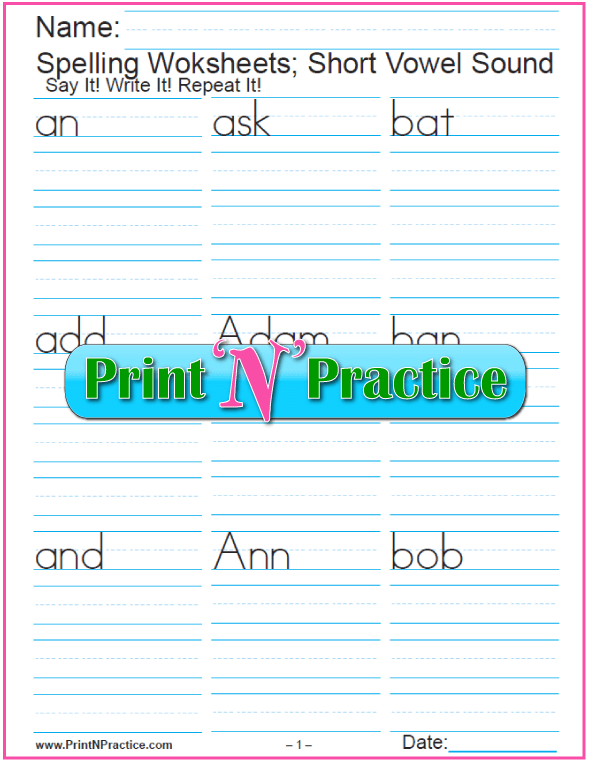 Kindergarten Short Vowel Sounds 11 pages
More Phonics Worksheets And Lessons
See more phonics worksheets for Kindergarten below, especially the beginner phonics activities and phonics worksheets.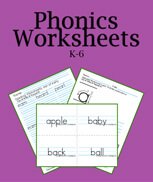 Buy 197 PDF Phonics Printable Worksheets Manuscript Print
3. Kindergarten Printable Worksheets For Spelling
I love teaching reading and writing to Kindergarten children. It can be frustrating though.
So many times, Kindergarten programs offer so much coloring and tracing that there is no time for real reading and writing.
This is great with students who are physically too young for reading. These worksheets can help those children who are really ready to start school.
Kindergarten Spelling Words List
This ad-free PDF has two pages with the Kindergarten spelling words list. 
Print double sided on card stock to keep on your desk or in your folder through the kindergarten year.
Kindergarten Spelling Words List 2 pages
23 Kindergarten Spelling Words Worksheets
This digital download has twenty-three pages with the same kindergarten spelling words and space to copy them three times each.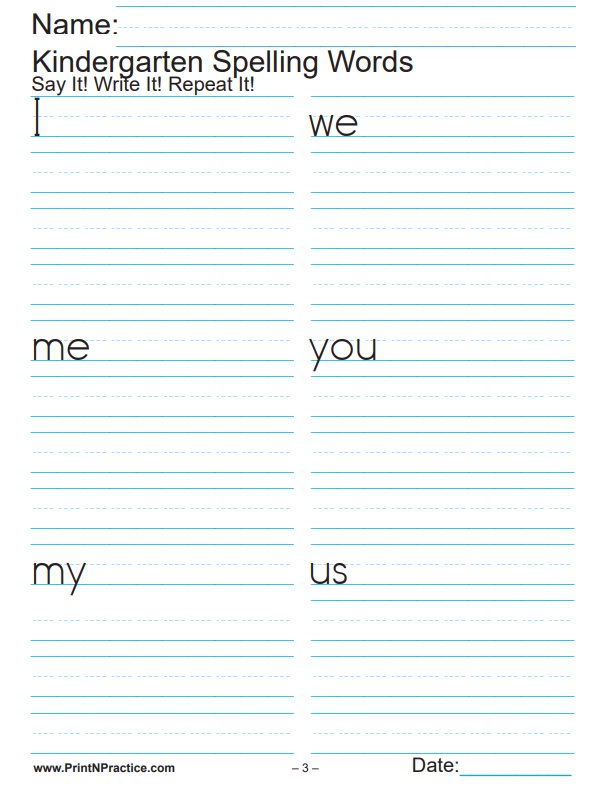 Kindergarten Spelling Words 23 pages
You can see more reading resources on our Phonics pages listed below and you can buy all seven years of K-6 spelling sheets in one handy bundle with files already made.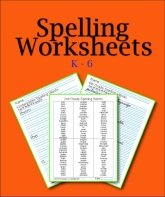 Buy 672 K-6 Printable Spelling Worksheets Cursive and Print
4. Kindergarten Writing Worksheets
5/8 Inch Printable Writing Paper
If you are fortunate enough to have students who are ready for Kindergarten writing, you'll love our site.
Frequently many kindergartners know their ABCs already. Most still need practice making the letters and knowing their names and sounds.
We think that learning the basics in order first is the easiest way for kindergartners to learn reading, writing and arithmetic.
Not here. Our worksheets are for building skills. Even when assessment is important, basic practice worksheets are great for teaching and for building confidence in your students.
At the Preschool and Kindergarten ages a little work goes a long way. Take just a few phonogram sounds at a time until they are learned, but only do this for a few minutes at a time - then do it frequently. Once the first few sounds and letters are learned, teach the next few phonics sounds.
We have loads more printable lined writing paper here in smaller sizes and with columns. There are also wonderful holiday themes.
Our simple sentences kindergarten printable worksheets teach beginning writing - probably best for second semester.
You might also like our First Grade worksheets.

5. Kindergarten Coloring Pages
Your kindergartners will love coloring these coloring pages.
Kindergarten and coloring go hand in hand, yet remember that some children's eyes are not ready for the close application necessary for coloring well.
Choose a sweet picture and offer nice crayons and let it be a fun activity.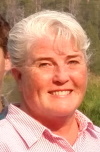 Mary Fifer
(Webmaster, PrintNPractice.com)
Mary Fifer, BSBA is webmaster, author, and researcher at PrintNPractice.com. She has created elementary school practice exercises using digital interactive worksheets. Printable and perfect for today's teachers, tutors, homeschoolers, and students!
Thank you for visiting and for sharing. :-)

Be encouraged to stay in touch! Join my free newsletter....