Top of First Grade Worksheets
Printable First Grade Worksheets
Practice Makes Perfect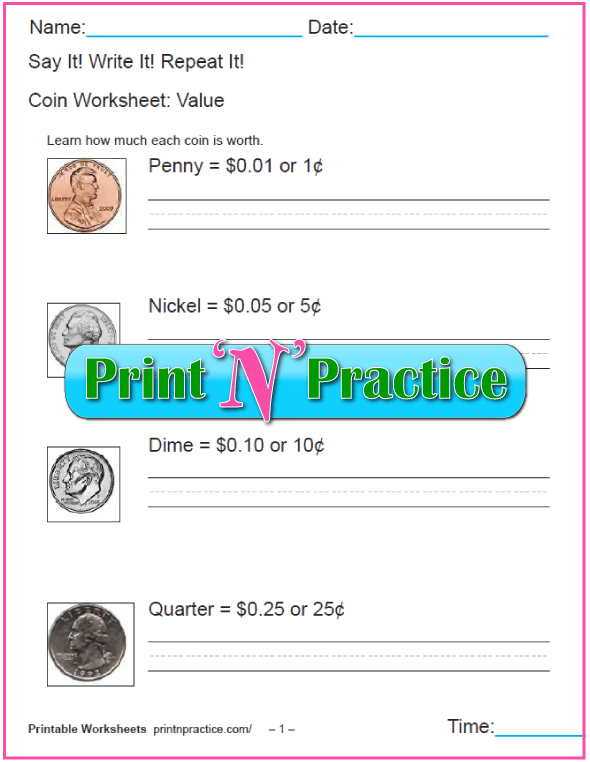 First Grade Worksheets Can Be Fun!
You'll love our ad-free PDF first grade worksheets because they offer concept practice three times each.
So many times, children simply need some old fashioned review and practice. Jump down to these first grade printable worksheets:
Our First Grade worksheets are free printable worksheets that you can use to teach the basics or reinforce what your child has learned at school or in a home school curriculum.
Be encouraged to stay in touch! Join my free newsletter....

Join To Receive My Free PrintNPractice Newsletters!
Free Online Worksheets For School, Homework, And Homeschool Practice
Free Online Teacher Resources - Free Homeschool Curriculum
For teachers and parents: PrintNPractice free printable worksheets are all copyright-free, digital activities for students. Use in homeschool, interactive notebooks for online classrooms, Google classroom, distance learning, tutoring and learning pods, and hybrid school. 
No prep.


No tracking.

Self learning.

Copyright free.

Lifetime license.

Diverse learners.

Easy drill-and-kill.

Interactive worksheets.

Printable morning work.

Paperless morning work.

Go printable or paperless.



Stay on track. Summer review.

Easy elementary school curriculum.




Remote learning packets or homework.

Most need no answer key or key is included.
Videos for audio and visual learners. God bless headphones!
See free teacher, homeschool, digital interactive school-at-home learning exercises with no login, no sign-up, no voucher, no account, and no credit card. Loads of digital activities for device-based learning. As seen at TeachersPayTeachers.
First Grade Print And Practice
Practice is key here. Our practice worksheets for First Grade include free printable worksheets with lovely elementary themes. You can go to other grades and subjects for more practice worksheets for slower or faster students.
This is where we link our main or new First Grade printables. 
First Grade is one of those years when many children "catch up". They mature and they "catch on" to what they may have been hearing and practicing for years. Be encouraged to offer review.
Even though printing these worksheets for your first graders is usually better for them to learn, all our worksheets are interactive. This means that you could copy these to your children's files for them to finish on the computer. Saves ink and paper. Bonus!
Printable First Grade Worksheets

1. First Grade Math Worksheets
Our first grade math worksheets have space for your students to copy the equations for all twelve tables three times for each equation. They cover counting and skip counting.
They also cover addition and subtraction with pictures of blocks, reference sheets for the addition and subtraction tables, and the ways to make a number. There are skill builders for all of the above and also for showing the relation between addition and subtraction.
Counting is first. 10. 20. 100.
Addition is fast counting and subtraction undoes it.
Practice plenty. Flash cards. Worksheets. Videos.
If your students say what they write they'll learn it better.
Repetition brings automaticity! Say it! Write it! Repeat it!
945 PDF Math worksheets.

Buy K-6 in one digital download.

No ads.

Filed by topic.

Interactive. Printable.

Use with any Math Lesson Plans.

Addition, Subtraction, Multiplication, Division and Fraction Practice.
2. First Grade Worksheets For Reading
Phonics For Teaching First Grade Reading
I cannot express to you how helpful honest phonics has been in teaching our children to read.
The bright children quickly learn to read.
The slower children do not have to wade through unrelated fluff.
When should you teach phonics? The sooner the better. 
How quickly should you move? Faster than you think. If you go too fast you'll see the results. Simply circle back.
Sometimes it is hard for teachers and parents to set aside time to drill individual children with the practice that they need. Use our first grade worksheets, flash cards, and videos to fill in the gaps where you need help.
This is true for our first grade phonics worksheets. When you are teaching a particular sound like "wh" or "th" you can print our matching worksheets for words to practice those sounds.
Saying the facts out loud further reinforces the learning and cuts the time necessary to learn the facts.
You might also like my thoughts about teaching the alphabet.
See these phonics activities for first grade:
List Of Phonics Activities For First Grade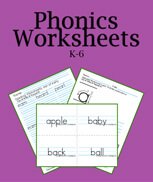 Buy 197 PDF Phonics Printable Worksheets Manuscript Print
Writing Selections For Reading Improvement
Our reading worksheets may be used by the teacher to read to the students or by the students for reading comprehension.
If the teacher reads the story, you can get an idea of the child's listening comprehension by the details in the picture he draws.
We would not put too much emphasis on having a work of art. The idea is to enjoy the story and "tell it back", not to produce a meticulous work of art.
If you find that this is frustrating and not fun, talk about the story and suggest ideas to put down on paper – or suggest shapes with which to begin.
The first grade reading worksheets have room for drawing and/or coloring the main ideas. 
You can use them to read to those students who are not quite able to read this level for listening comprehension exercises.
You can use these kids nursery rhymes for these activities. They are included in our Child's Garden of Verses bundle.
See more writing ideas below.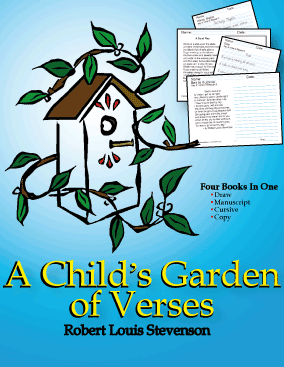 Buy Garden of Verses Manuscript Handwriting and Cursive Writing Worksheets, 250 pages.
3. First Grade Worksheets For Spelling
Four Page First Grade Spelling List
First Grade Spelling Word List For Teacher, 4 Pages
First Grade Spelling Worksheets, 79 Page
First Grade Spelling Word Worksheets 79 Pages
You'll love our phonics and phonogram worksheets for spelling, too. You can buy them complete with all our K-6 spelling worksheets in one bundle with convenient files.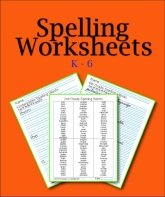 Buy 672 K-6 Printable Spelling Worksheets Cursive and Print
4. First Grade Writing Worksheets
Many elementary worksheets are simply quizzes! We believe that it is important to build the basics first. So many times we find it true that children do not have enough time to practice the basics.

List Of Writing Activities For First Graders
5. First Grade Coloring Pages

Fill in the gaps in your day with hundreds of fun coloring pages to print.
Let them sparkle your school day:
Thank you for visiting and for sharing our printable first grade worksheets!

~Mary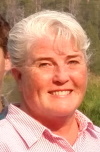 Mary Fifer
(Webmaster, PrintNPractice.com)
Mary Fifer, BSBA is webmaster, author, and researcher at PrintNPractice.com. She has created elementary school practice exercises using digital interactive worksheets. Printable and perfect for today's teachers, tutors, homeschoolers, and students!
Thank you for visiting and for sharing. :-)

Be encouraged to stay in touch! Join my free newsletter....