PDF Printable List Of Conjunctions
The List Makes Learning Easy
The first printable below is a list of conjunctions and it teaches the coordinating, subordinate, and correlative conjunctions. The two worksheets offer practice, one in manuscript, and the other in cursive writing.
Be encouraged to stay in touch! Join my free newsletter....

Join To Receive My Free PrintNPractice Newsletters!
Free Online Worksheets For School, Homework, And Homeschool Practice
Free Online Teacher Resources - Free Homeschool Curriculum
For teachers and parents: PrintNPractice free printable worksheets are all copyright-free, digital activities for students. Use in homeschool, interactive notebooks for online classrooms, Google classroom, distance learning, tutoring and learning pods, and hybrid school. 
No prep.


No tracking.

Self learning.

Copyright free.

Lifetime license.

Diverse learners.

Easy drill-and-kill.

Interactive worksheets.

Printable morning work.

Paperless morning work.

Go printable or paperless.



Stay on track. Summer review.

Easy elementary school curriculum.




Remote learning packets or homework.

Most need no answer key or key is included.
Videos for audio and visual learners. God bless headphones!
See free teacher, homeschool, digital interactive school-at-home learning exercises with no login, no sign-up, no voucher, no account, and no credit card. Loads of digital activities for device-based learning. As seen at TeachersPayTeachers.
A list is super helpful for beginners both to understand the function and to recognize the actual words.
ESL students need only translate to their own language. 
As with the English definition of many terms, descriptive words usually have the same definition or meaning that they have in other uses. 
If you recognize the base or root word of the grammar term you can figure its definition. Their functions are the same no matter what the newest text book calls it.
So what are conjunctions in English grammar?
Definition Of Conjunction
Conjunction - A conjunction is a word, or group of words, that joins sentence parts, sentences, and paragraphs. It does not take an object as does a preposition.
There are, generally, subordinating, coordinating, and correlative conjunctions (these last are the same as correlative coordinating).
Conjunction definition: Conjunction means "to join", 
subordinate means "lower in order", 
coordinate means "with order", and 
correlate means "with relation" and so on. 
Basically, the words mean what they mean in other English uses.
List of Conjunctions
Coordinating Conjunction Definition
 What is a coordinating conjunction?
A coordinating conjunction is a word, or group of words that join sentence parts, sentences, and paragraphs that are of the SAME order or rank (coordinate): two subject nouns, two predicate verbs, two adjective modifi ers, two independent clauses, two dependent clauses, etc.
See examples below. See more grammar definitions here.
Coordinating Conjunction List
Coordinating Conjunction List (means with order): These seven can be rearranged to form the acronym FANBOYS:
and, 
but, 
or, 
nor, 
for, 
so, 
yet
Correlative Conjunctions Definition
What are correlative conjunctions?
A correlative conjunction is a coordinating conjunction that is PAIRED with another. The common correlative conjunctions are: both – and; either – or; if (whether) – or; neither – nor; not only – but also; whether – or.

See examples below and more definitions here.
Correlative Conjunction List
Correlative Conjunctions List (means with relation): These words work in pairs to join words and phrases of equal importance:

both . . . and
just as . . . so also
not only . . . but also
either . . . or
neither . . . nor
whether . . . or
Subordinating Conjunction Definition
What is a subordinating conjunction?
(means subordinators) Words that connect dependent and independent clauses, words that introduce an adverb clause. 

Subordinating Conjunction List
Subordinate Conjunction List - same as a Subordinating conjunctions.
Subordinate means under or lower order: These words join a dependent clause to an independent clause in a complex sentence.
At first this looks like a huge list of conjunctions; yet once kids understand that there's a joining and that these words make the rest of the phrase so it cannot stand on its own, it's easier for them to see the subordination because they can see the dependence on the main part of the sentence.
A very good question is "Can the clause stand on its own?" If not, the first word is a subordinate conjunction.
Subordinating conjunctions examples:
List Of Subordinating Conjunctions
More than 20 examples of subordinating conjunctions:
after
although
as
as far as
as if
as long as
as soon as
as though
because
before
considering
either
however
if
in order that
neither
since
so that
than
then
though
unless
until
when
whenever
where
whereas
wherever
whether
while
Subordinating Conjunctions Exercises
Have your students choose 5 examples of subordinating conjunctions and use them in an original sentence. This sure gets kids thinking and helps them remember over time.
Is Because A Coordinating Conjunction?
Is because a conjunction?
Yes because it joins two clauses.
Is it coordinating?
No, the word because is a subordinating conjunction and can be used to show cause and effect.
I help you, because I love you.
Love is the cause of the effect help.
Because is subordinate because the clause "because I love you." cannot stand on its own in a simple sentence.
Basic Conjunctions Worksheets PDF
These English grammar conjunction worksheets use quick examples of conjunctions in a simple manner for beginners.
An example of joining subjects where and is the conjunction:
An example of joining verbs where and is the conjunction:
2 PDF Conjunction Worksheets With Paired Conjunctions
This first printable has two worksheets that can be printed back to back on two sides.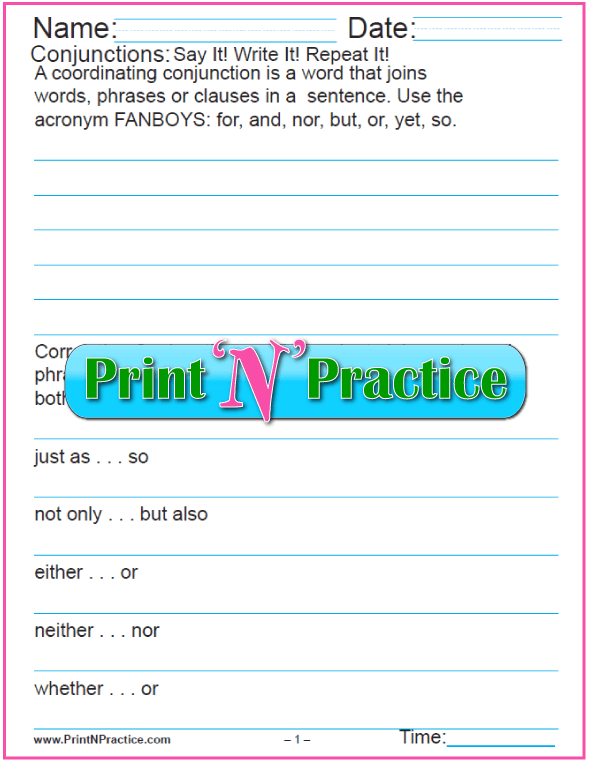 List of Conjunctions: Coordinating, Correlative,& Subordinating
Manuscript Print Conjunctions Exercises
The next two grammar downloads have conjunction example sentences. The first download is in manuscript handwriting and the second is in cursive writing. Both show how conjunctions are used.
These super simple sentences show basic conjunctions in light gray font.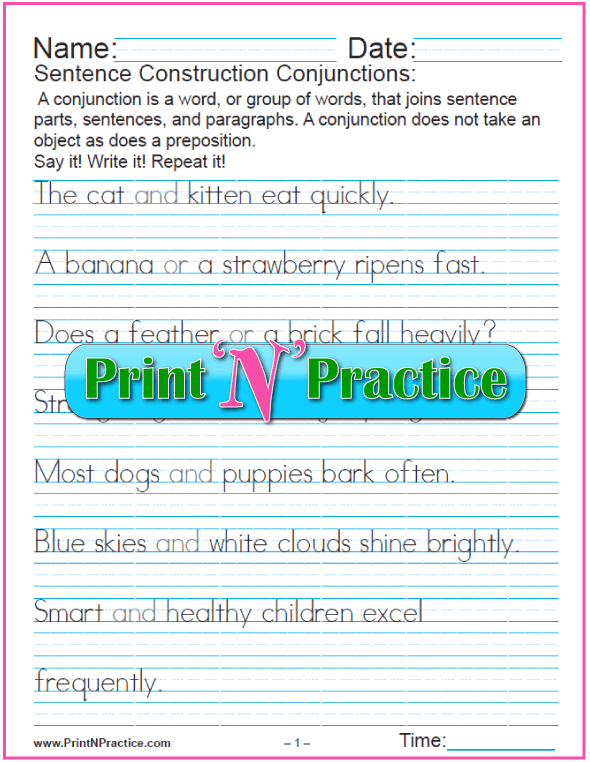 Manuscript Conjunctions Worksheets
Cursive Grammar Exercises Conjunctions Worksheets 5th Grade
This last download is the same as the one above; yet in cursive writing and it runs to three pages showing how to use conjunctions in a sentence.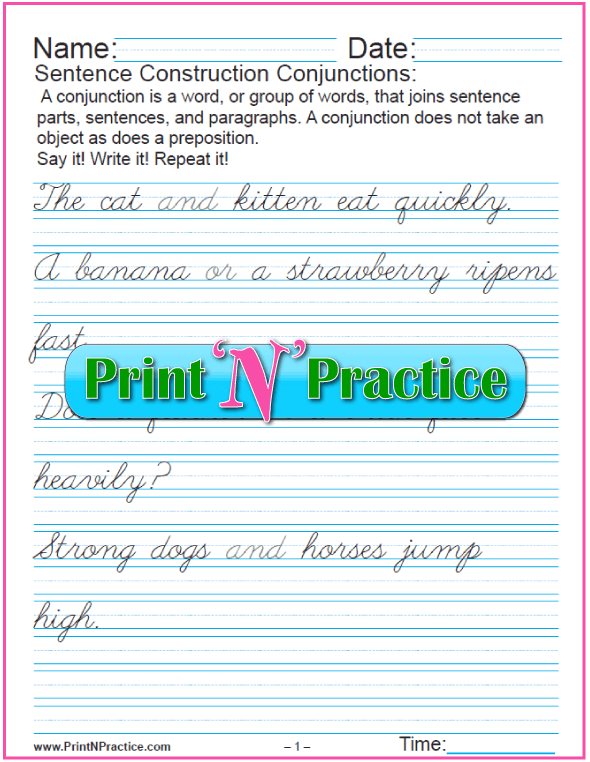 Cursive Conjunctions Worksheets
Diagramming Conjunctions
Sentence diagramming is easier when you can tell the difference between a simple sentence, a compound sentence, and a complex sentence.
A list of conjunctions is a huge help with this.
It's best to memorize the list, yet usually repeating the list a few times once in a while is very helpful for recognizing them in sentences. You can make this review briefly before each lesson and kids won't even realize they're "studying". 
Compound-complex sentences are easier to recognize, too.
Get students familiar with the list of conjunctions to make it easier to recognize these kinds of sentences with their subordinate clauses.
We have diagramming sentence charts and worksheets here that will let kids practice using conjunctions in compound and complex sentences.
Diagramming will help kids "see at a glance" what conjunctions do with compound nouns and subject verb agreement (singular and plural noun worksheets).
Diagramming is like having a road map to grammar.
* American English Grammar And Writing Worksheets
<< This download has my favorite grammar PDFs for practice in elementary and middle school grammar lessons. 
If you like the samples on this page, you'll love the grammar download which includes diagramming charts and English Grammar Definitions ebook.
These are great for easy practice and for ESL students. 
Get the set. And enjoy!
* Karen Newell's Grammar And Writing Worksheets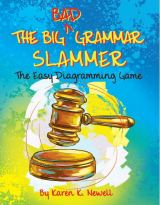 Grammar Slammer Easy English Grammar Games
Fast way to teach basic grammar!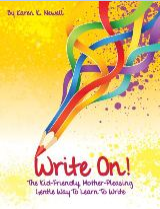 Write On! Creative Writing Course
Simple step by step workbook.
* Elizabeth O'Brien's English Grammar Revolution

Elizabeth O'Brian has the best diagramming workbooks I've seen. Her website also has videos to go with each lesson.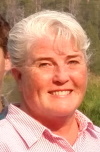 Mary Fifer
(Webmaster, PrintNPractice.com)
Mary Fifer, BSBA is webmaster, author, and researcher at PrintNPractice.com. She has created elementary school practice exercises using digital interactive worksheets. Printable and perfect for today's teachers, tutors, homeschoolers, and students!
Thank you for visiting and for sharing. :-)

Be encouraged to stay in touch! Join my free newsletter....

---