Printable Alphabet Coloring Page
With Alphabet Letters To Print
FTC Disclosure: I recommend products I think will help you and your children. If you buy through my links I earn ad commissions at no extra cost to you.
This is our alphabet coloring page with pictures to print for Preschool, Kindergarten, and First Grade. Some children simply learn their letters better one letter at a time in full color.
These are full 8.5 x 11 inch pages that can also be used as banners. This is very fun for birthdays, graduations, and other special events like "Welcome Home!" and "Congratulations!"
If you have a name sake for whom you want to celebrate, print these using your printer's "booklet" setting so you can make a card based on the first initial of the name.
Enjoy these favorite fruits and vegetables and celebrate fruits and vegetables with these coloring pages. We also have other food coloring pages.
Printable Alphabet Coloring Pages
1. Printable Alphabet Letter Worksheets
2. Food Pictures Alphabet Coloring Pages
We have more alphabet coloring pages to print on our Alphabet Worksheets page that make teaching the alphabet fun! Little ones love to color. These can also be used for making banners, especially if you cut and paste to construction paper. Number Coloring Pages can serve as banners, too! "Happy 1st Birthday!" "Happy 50th!" "The Big 1!"
This is a list of our list of alphabet coloring letters: Asparagus, Banana, Corn, Dates, Eggplant, Figs, Garlic, Honeydew, Iceberg lettuce, Jalapenos, Kiwi, Lemons, Mushrooms, Nectarines, Oranges, Pears, Quince, Raspberries, Strawberries, Tomatoes, Ugli Fruit, Veggies, Watermelon, Exotic Fruits, Yams, and Zucchini.
Okay, maybe asparagus is not a child's favorite food, but it is easy to spell because it uses only short vowels. An orange A on green asparagus with purple tips is pretty.
Dates are purply-brown and so are figs, but they also have a green tint.
What color is garlic? Most garlic that we see is white, tan, or yellow; but there are some purple and purple-to-pink kinds of garlic that would be fun to color. If you're choosing a light color for the garlic, color the background dark as with purple or green.
Honeydew melon is very light green-white on the outside and a darker green on the inside. Sometimes the rim can be a light yellow.
Pears are mostly yellow with green tints and quinces are similar with less green. Of course, raspberries are raspberry colored or some mix of pinkish reddish purple.
What are Uglis? They're Ugly Fruit. The ones that we have eaten were just like grapefruit, but a little sweeter. They're a light lime green color on the outside and anywhere from orange to pink on the inside.
Yams are mostly orange with hints of red and brown, and zucchini can be either yellow or green with green or yellow accents.
The letter backgrounds can match the letter color for a wonderful bright effect. Contrasting colors make the letters stand out, too.
Orange makes purple stand out – think Fed Ex.
Yellow stands out from blue.
Red stands out from green – think Christmas.
Brown is a great background for the brighter colors – think fall colors.
Yellow, orange and green are great backgrounds for brown fruit, like dates.
The possibilities are endless. Enjoy!
---
Buy All 350 Kids Coloring Pages in One Bundle!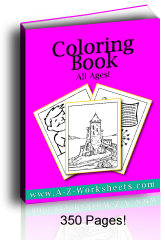 350 Printable Coloring Pages
1. Buy All 350 Coloring Pages In One PDF Download. No ads.
2. Filed by topic.
3. Interactive and printable.
4. Great for Pre School and Kindergarten.
---