Printable AI Words Phonics Worksheets

Since this AI Words page is the first of more than forty phonics worksheets, I am adding photos of ways to use them with different aged students. See the following sections:
1. Teaching AI Words In Phonics
Ai words have the long vowel /A/ sound. English words do not use AI at the end of a word, because English words do not end in i.
Hint: If we say /A/ at the end of an English word, we usually do not use AI, but AY.
After silent final e making an A say /A/, AI is the most common long A sound phonogram or digraph vowel pair (two letters).
2. AI Words Spelling Practice
Two AI Words Phonics Worksheet downloads, one large for grades K-3 and the other small for grades 4-6. See instructions, dictations, and the downloads below.
Use your favorite phonics program for rules, syllabication, and lesson plans; then use these PDF worksheets for review and practice.
If you would like, you can print these free phonics flash cards.
There is space on the second page for dictation and review of other words.
Print the K123 version two-up for middle school children to have smaller lines.
It looks like a lot less work to the kids and actually improves their penmanship not to have to make large letters.
See many more ideas and dictation notes below.
Be encouraged to stay in touch! Join my free newsletter....

Join To Receive My Free PrintNPractice Newsletters!
Free Online Worksheets For School, Homework, And Homeschool Practice
Free Online Teacher Resources - Free Homeschool Curriculum
For teachers and parents: PrintNPractice free printable worksheets are all copyright-free, digital activities for students. Use in homeschool, interactive notebooks for online classrooms, Google classroom, distance learning, tutoring and learning pods, and hybrid school. 
No prep.


No tracking.

Self learning.

Copyright free.

Lifetime license.

Diverse learners.

Easy drill-and-kill.

Interactive worksheets.

Printable morning work.

Paperless morning work.

Go printable or paperless.



Stay on track. Summer review.

Easy elementary school curriculum.




Remote learning packets or homework.

Most need no answer key or key is included.
Videos for audio and visual learners. God bless headphones!
See free teacher, homeschool, digital interactive school-at-home learning exercises with no login, no sign-up, no voucher, no account, and no credit card. Loads of digital activities for device-based learning. As seen at TeachersPayTeachers.
3. Learning Phonics Rules For AI Words
Long A Rule: A usually says /A/ at the end of a syllable, when followed by one consonant and silent final e, or when followed by i or y in a digraph phonogram (AI, AY).

End Syllable
la zy
cra zy
ha zy
AI and AY words usually say the long vowel A sound. AIGH says the long vowel A sound as in straight. Otherwise, you can think of GH as being silent.
Explain that there are silent letters that make other letters say a different sound. Here the A says /A/ because of the i. It's not really a blend because letters in blends keep their original sounds.
Our AI words worksheets have two size levels, or you can print the first one two-up for older students to have a small and elegant size:
Kindergarten AI Words Large Font - K-2, print 2-up for middle school.
Third Grade AI Words Small Font - Great size for grades 3-6.
Choose the size that works for your children. It's handy to have the different sizes to teach phonics to several aged children.
---
Buy All 190+ Phonics Worksheets And Phonics Flashcards In One Bundle
---
4. Teaching Phonics: Dictating AI Words
Phonics Dictation
As you're teaching the phonogram AI, dictate the following words for your children to write into their notebooks. If you're not using notebooks, simply use plain paper.
The main thing is to have practice writing the /A/ using the AI digraph. Our AI worksheets are a great for review or a homework lesson. 
Next is a list of AI words with sample sentences to help the children understand the vocabulary or to write from dictation. Most of these sentences use simple words for dictation.
AI Words With Sample Sentences
List of AI words with sample sentences to help the children understand the vocabulary or to write from dictation. Most of these sentences use simple words for dictation.
again – Play the game again.
bait – The boy put the bait in the trap.
braid – She will braid her hair today.
chair – Papa bear had the big chair.
grain – Corn, oats, and wheat are grain.
hair –  Comb your hair each day.
jail – Be good and stay out of jail.
laid – She laid her baby in the crib.
lain – The gold coin had lain in the ground.
mail – I love to get mail from the post office.
nail – The man fixed it with a hammer and nail.
paid – The lady paid her bills.
pain – Pain hurts.
paint – I painted my walls light green.
plait – She will plait her hair into a braid.
quail – Quail are cute birds in nature.
rail – Hold on to the rail in the stairway.
rain – Piglet saw the rain fill the puddles.
sail – Columbus did sail across the sea.
saint – A saint was a very good person.
stair – Baby will climb one stair at a time.
stairway – Keep baby off the stairway.
trail – I like to climb a trail in the woods.
wait – Wait till I can go with you.
Sometimes we see words that are pronounced differently. They have an unusual or irregular pronunciation. Words where AI does not say /A/ are: said, plaid, and sometimes plait. 
In England they say AI with the long vowel sound in the word again. You can teach the word that way so kids can remember how to say it, although in the United States we say it with a short vowel sound.
Unusual pronunciations can be confusing to ESL students, and also to those of us who speak English as EFL students. You simply have to learn these words as you go.
---
Buy All 190+ Phonics Worksheets And Phonics Flashcards In One Bundle
---
5. Ideas For How To Use These Worksheets With Several Students At Different Levels
5.A. Kindergarten Through Third Grade Phonics
When you're teaching the AI sound, have your students find the AI phonogram in the words on the worksheet. 
Have them underline the letter pair from the edge of the A to the edge of the I so the underlining stays neat and tidy.
You can see the underlining in this next photo where the pencil is pointing in the word grain.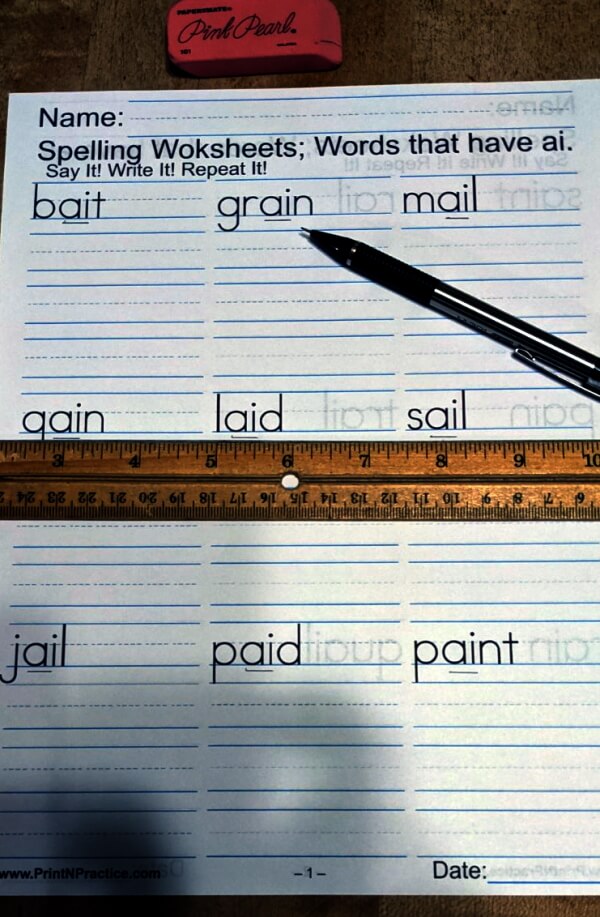 Ai Words Worksheet for K-3 - Review and underline the phonograms in each word.
5.B.  Say The Words As You Write Them
Practice sounding out the phonograms for each of the words or as many as you would like to assign.
Sometimes a few well learned is better than a long hard drill.
Next have the children say the sounds as thy write them. Copying the words three times each is an easy task and can be finished quickly. Copy work is easy. Keep it quick.
A further review or recap is to underline the phonogram in each of the copied words.
Remembering to say the sounds of the phonograms as you go is the trick to remembering how to spell the words.

The next photo shows writing the AI words for practice.
Assign these AI Words practice worksheets and help the children say the sounds while they write the words.
5.C. 4th-6th Grade Phonics Practice
The next photo shows using the next level up for 4th through 6th grade. The font size is smaller so more words fit on the paper and children have a more mature letter size.
Another exercise for older students is to think of derivative words, words that are related. Put them in the extra column.
This is an excellent exercise for teaching longer words and compound words. It grows vocabulary fast!
The first column shows the root word, 
The second column shows a compound word, and 
The third column shows derived words.
Dictate these or simply coach your students through the sounds. When they think through the sounds in order, they build their future reading skills.
These AI Words Phonics Worksheets use a fourth, fifth, or sixth grade smaller font.
6. Two Sets Of AI Words Worksheets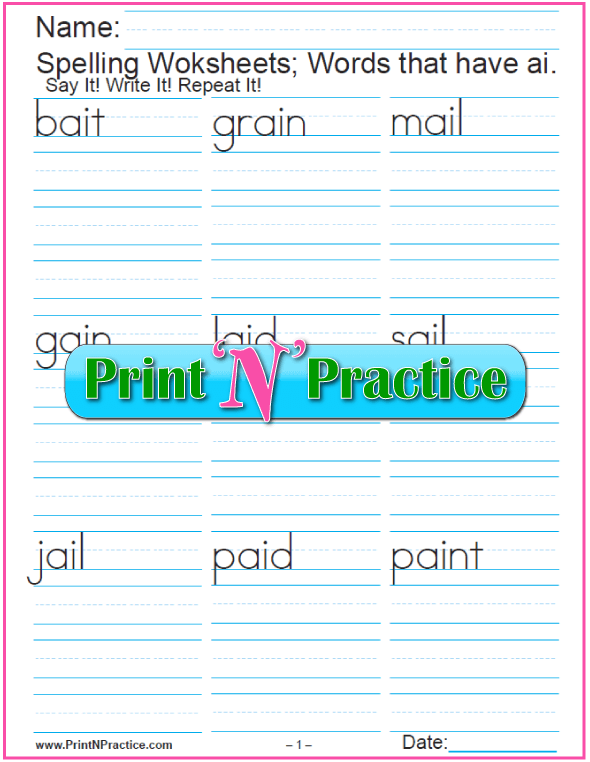 Printable Phonics Worksheets: say the AI words while writing.
Print for kindergarten through third grade. Or print two up for high school. 
Print for fourth through sixth grade students. Add your own examples.
7. Using AI And AY Worksheets

Go to our AY worksheets page to teach using the long vowel A at the end of a word.
You can add these AY worksheets to your lesson plans. 
My recommendation is to be sure to teach the rule that we do not use AI at the end of a word and that we use AY to say /A/ at the end of a word.
If you mention that, "The dot may not" your children may understand this quickly. An I has a dot which means it may not be used at the end of an English word.
Long A, AI, and AY worksheets can be taught together if the children understand why the y must be at the end of the word: basically, we do not end an English word in i.
Otherwise teach AY words separately.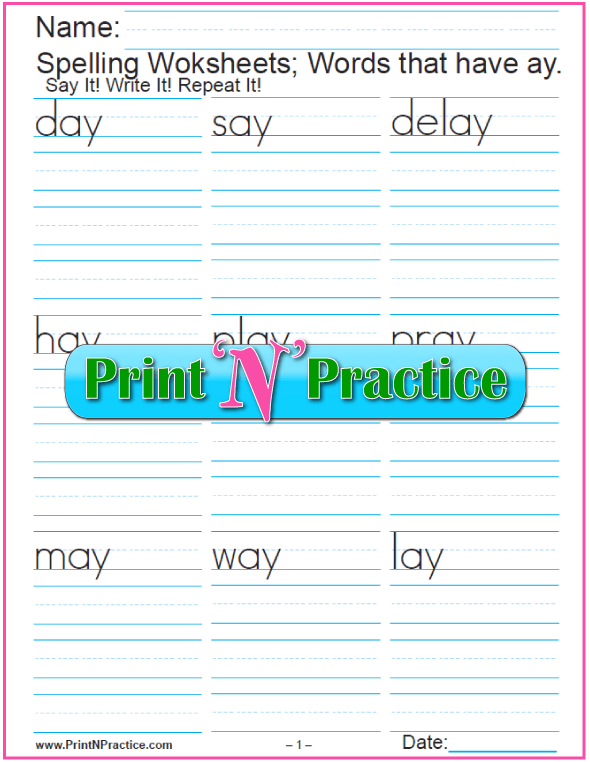 Go to this page to see 3 AY Worksheets.
8. Interactive Phonics Worksheets
You can print these PDF printables or store them in a file for your child's phonics lessons and exercises. Whether they read the lists, write the words, or type the words, they'll have excellent phonics practice. 
You are also free to use them as PowerPoint presentations (PPT). Learn how these PDF printables are interactive here.
9. How To Teach Phonics With More Free Phonics Worksheets
You'll find more than forty free phonics worksheets on our main phonics page. 
I also list my favorite phonics kindergarten, first grade, second grade, and third grade, phonics books, activities, and videos from the same page.
You might like to know that many of these next worksheets are available in both manuscript and cursive worksheets:
Buy Our Phonics Worksheets In Bundles: Phonics, Spelling, And Reading
Buy the bundle of our online phonics worksheets in one digital download for ad-free access to phonics practice for your elementary school students at school or at home.
BONUS: It includes our cursive writing worksheets.
Homeschool worksheets for spelling practice and Robert Louis Stevenson's poetry handwriting worksheets make great ESL printable worksheets. Enjoy!

More Phonics Worksheets, Videos, and Books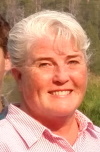 Mary Fifer
(Webmaster, PrintNPractice.com)
Mary Fifer, BSBA is webmaster, author, and researcher at PrintNPractice.com. She has created elementary school practice exercises using digital interactive worksheets. Printable and perfect for today's teachers, tutors, homeschoolers, and students!
Thank you for visiting and for sharing. :-)

Be encouraged to stay in touch! Join my free newsletter....

---