Top of Number Writing Worksheets
Number Writing Worksheets Make Writing Numbers In Words Easy
You'll find that kids number writing worksheets are so helpful in all of the early grades.
Little ones appreciate the model and older children appreciate the easy reveiw. There are seven kinds of printable math number writing practice sheets.
I've even seen Kindergarten through 6th grade students who like to practice writing numbers, but also high school students for practice writing checks!
Who uses checkbooks and registers anymore? Even in these crazy days, writing checks remains a necessary skill.
Be encouraged to stay in touch! Join my free newsletter....

Join To Receive My Free PrintNPractice Newsletters!
Free Online Worksheets For School, Homework, And Homeschool Practice
Free Online Teacher Resources - Free Homeschool Curriculum
For teachers and parents: PrintNPractice free printable worksheets are all copyright-free, digital activities for students. Use in homeschool, interactive notebooks for online classrooms, Google classroom, distance learning, tutoring and learning pods, and hybrid school. 
No prep.


No tracking.

Self learning.

Copyright free.

Lifetime license.

Diverse learners.

Easy drill-and-kill.

Interactive worksheets.

Printable morning work.

Paperless morning work.

Go printable or paperless.



Stay on track. Summer review.

Easy elementary school curriculum.




Remote learning packets or homework.

Most need no answer key or key is included.
Videos for audio and visual learners. God bless headphones!
See free teacher, homeschool, digital interactive school-at-home learning exercises with no login, no sign-up, no voucher, no account, and no credit card. Loads of digital activities for device-based learning. As seen at TeachersPayTeachers.
Writing Numbers In Words For Beginners
The first worksheets below are for beginners and the rest move up in number writing difficulty. Choose the one that's right for what you're teaching now.
These are super direct worksheets for writing numbers in words in both manuscript and cursive writing: 0-9, 1-10, 1-100.

I find that writing numbers in words is the best way to make the association between the numerical symbol and the printed word.
When children write numbers in words they associate 2 with two and 4 with four, instead of mixing the spelling of the numbers with the spelling of the prepositions that have the exact same sounds.
At the beginning of the school year, I like to prepare the children and then give Math spelling tests. It just takes a week or two; yet it makes math, reading, and spelling much easier.
My kids always benefit from the review. These math number writing sheets can help your children get plenty of practice. :-)
1. Printable Number Writing Worksheets
These are wonderful beginner number writing worksheets. Kids can practice the elements that you want them to learn: tracing or writing the numbers and drawings that show the number of units written.
10 Preschool Number Writing Worksheets
This download has ten preschool math worksheets for preschool math or even art class because your children will color the numbers.
These worksheets cover from 0-9.
If your children need tactile practice, have them color the number first and then finger trace for practice. The wax left by the crayon will help them to "stay in the lines".
Simple Number Writing Practice 0-9: Number Coloring Pages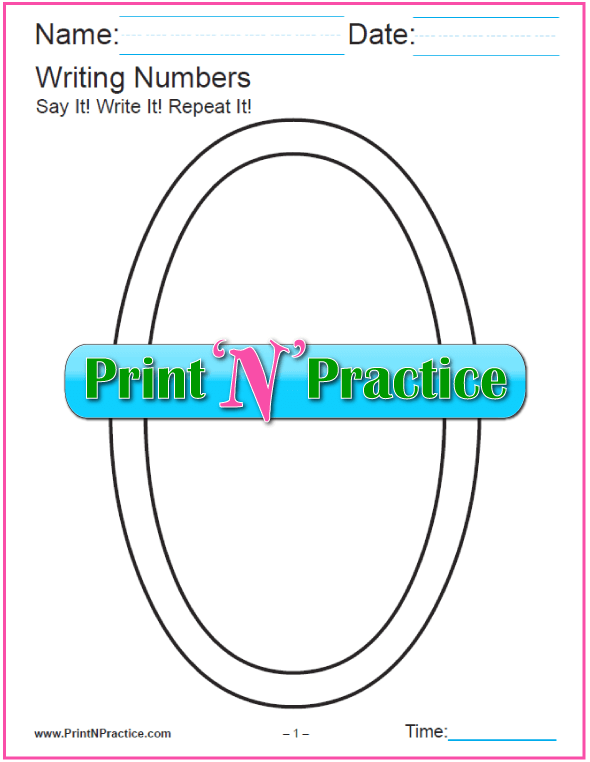 Ten Number Coloring Pages 0-9
See more number coloring pages here.
10 Kindergarten Math Number Writing Worksheets

There are ten kindergarten math worksheets here; yet this set covers from 1-10.
Trace the number.
Count the dots.
Write the number.
Color a picture.
I do not like to beleaguer this exercise.
Assign just a few repetitions, especially for the ones. Goodness! Some children will squeeze scores of ones in one line. 
In this case it is handy to teach them to leave a finger space between each number. This is most helpful for the ones and the tens.
This first page shows a sample of practice writing number 1.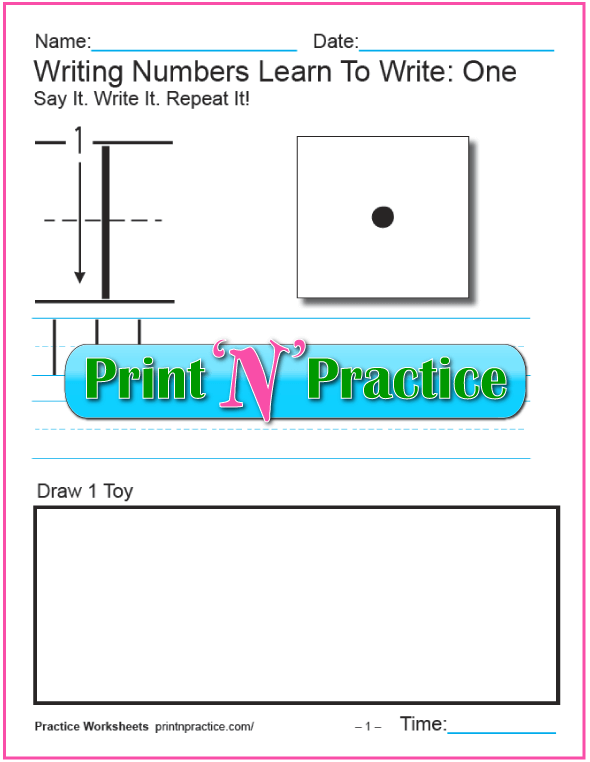 Ten Number Writing Worksheets 1-10
2. Manuscript And Cursive Number Writing Practice
These manuscript and cursive math worksheets come in both ruled and un-ruled versions and are good for first grade and second grade. The un-ruled version is actually better for older grades.
The last set has the numbers written in cursive.
Writing numbers in words is great practice for math class and for reading and writing in other classes. 
Manuscript Number Writing Worksheets
Saxon Math teaches that when you spell out numbers you need to hyphenate twenty-one through ninety-nine.
Grammarly teaches the rules for when to spell out numbers. It says you should write numbers in words for numbers under 101. (See what I did there?) I love their comment to be consistent.
When it comes down to grading math? Do what your math book teaches.
There are eighteen pages here, so definitely spread this assignment over a week or two. Since the numeral is on the same line, it reinforces the association between the number and the spelling.
18 Manuscript Numbers Worksheets 1-100
Un-ruled Number Writing Worksheets
There are five worksheets in this download. It was one of our first so it does not have fancy formatting, yet that's great for older students to quickly review their numbers and the spellings. 

Remember to explain the rules for hyphenating numbers.
You can use your printer's settings to print these two up for smaller handwriting and easier practice.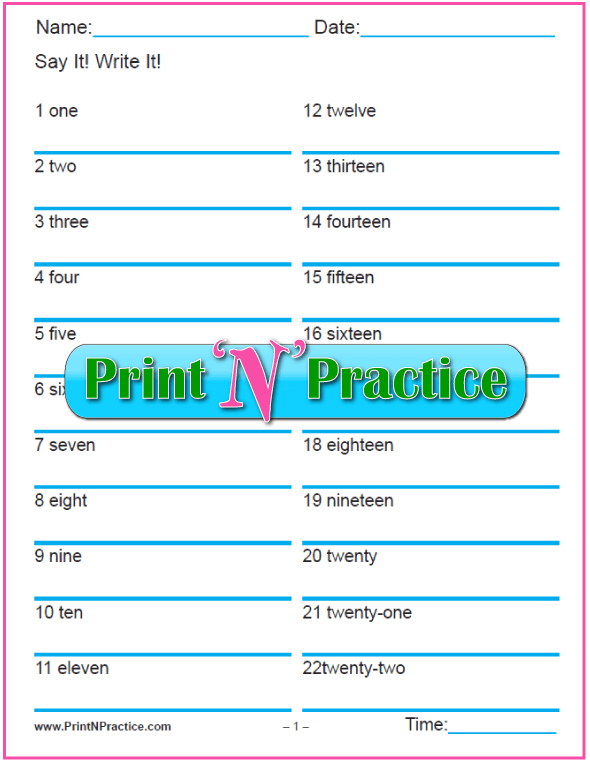 5 Unruled Print Numbers 1-100
Cursive Number Writing Worksheets
There are nineteen cursive number writing worksheets in this download. 
Cursive is more loopy than manuscript and at this size, it takes more space to write the numbers out in words. I would definitely print these two-up for older children.
If you want penmanship practice see our handwriting worksheets.
19 Cursive Number Writing Worksheets, 1-100
3. Printable Counting Number Worksheets 


Early in the year, I like to give the first set of these number writing worksheets as either a spelling list to test on Friday or as a quick math review.
So many times kids simply forget how to spell the numbers or need a mind jiggler to remember how to hyphenate the numbers in words.
The first download has 6 pages and the second has three. The second counts by halves from zero to 10.00.

Writing Number Words To One Hundred, 1-100
There are six number writing worksheets in this download. It's also excellent for penmanship practice and number writing practice 1-100. 
You can use the first page for number writing practice 1-20.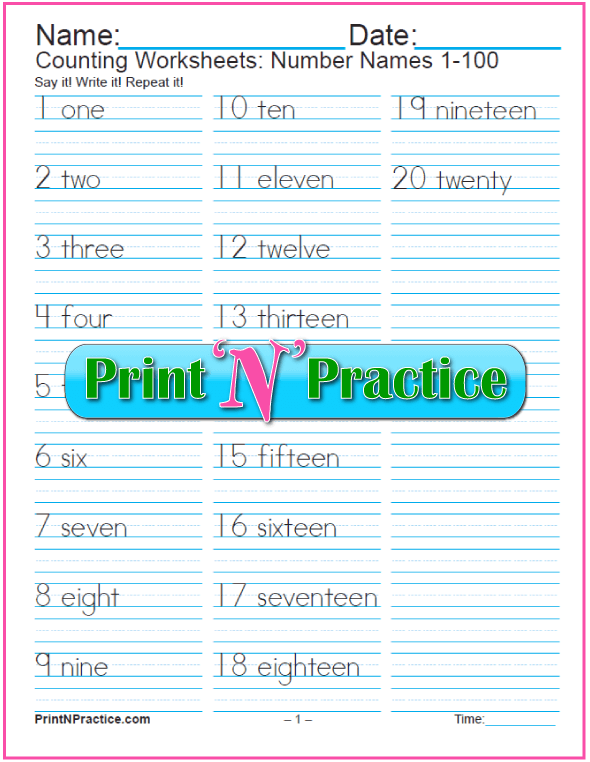 6 Counting Numbers Worksheets With Spelling Words
Writing Numbers In Words Counting Halves
Writing numbers in words gets tricky when you have fractions. Count by halves from zero to ten.
These three worksheets have the fractions, the words, and the decimal equivalent in halves.
See our PrintNPractice fraction worksheets and decimal worksheets.
3 Counting Halves Worksheets With Numbers In Words, 0-10
Practice Writing Numbers On Checks
Older children love these number writing worksheets. Hey! You can brush up and remember how to write the numbers, too.
Why are these fun and interesting?
Go to our practice writing checks page for faux checks to print and a list of store names to practice spelling the titles. 
List of Number Writing Worksheets
There are more number writing worksheets below, some have the numbers in words, too. See more writing numbers worksheets here:
Buy Our Math Worksheets Bundle And Save Time!

See sample Math practice worksheets. Bundle includes dictionary for Math.
945 PDF Math worksheets.

Buy K-6 in one digital download.

No ads.

Filed by topic.

Interactive. Printable.

Use with any Math Lesson Plans.

Addition, Subtraction, Multiplication, Division and Fraction Practice.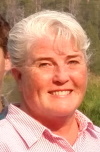 Mary Fifer
(Webmaster, PrintNPractice.com)
Mary Fifer, BSBA is webmaster, author, and researcher at PrintNPractice.com. She has created elementary school practice exercises using digital interactive worksheets. Printable and perfect for today's teachers, tutors, homeschoolers, and students!
Thank you for visiting and for sharing. :-)

Be encouraged to stay in touch! Join my free newsletter....