Words That Start With X
X axis and Roman Numeral X
FTC Disclosure: I recommend products I think will help you and your children. If you buy through my links I earn ad commissions at no extra cost to you.
Welcome to a tiny Math Dictionary that has words that start with X .
There aren't many words that begin with the letter X, much less Math words; but the list of X words below is helpful especially when you're trying to think of x words for a game.
Remember to include Math vocabulary any time you can. I really think that it is important to simply repeat the definitions three times each. Making a quick review of a definition helps students remember it in the future. Wouldn't it be great if all students could remember which is the x-axis?
Use the links in the alphabetical chart to go to other sections of our dictionary.
Enjoy!
List Of Words That Start With X
X-Axis - the horizontal axis in the plane.
X-Intercept - the point at which a line crosses the x-axis.
X-Pentomino - a pentomino in the shape of the letter X.
X - Roman numeral for 10. See Roman Numeral worksheets here.
Hint: Roman numerals often count as words on crossword puzzles. XX, XXX, XXI, etc.
Okay. Here are some more words that start with X that you can use. Tell the little ones to count the bars on a Xylophone, count how many ribs are in an Xray picture, or count the ornaments on a Xmas tree.
Get the whole list by printing this booklet:
Printable Math Dictionary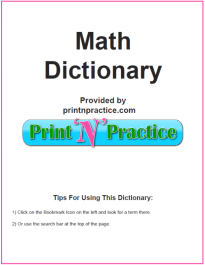 Printable Math Dictionary
I print and keep these Math definitions as a glossary in my binder: Free Printable Math Dictionary For Kids. 
You can also download it to your tablet or bookmark the page.
See the alphabetical links below for more online Math words.
A * B * C * D * E * F * G * H * I * J * K * L * M

N * O * P * Q * R * S * T * U * V * W * X * Y * Z 
Buy Our Math Worksheets Bundle And Save Time!

Sample Math practice worksheets. Bundle includes dictionary for Math.
1. 945 K-6 Math Worksheets
2. One PDF Download. No ads.
3. Filed by topic.
4. Interactive. Printable.
5. Use with any Math Lesson Plans.
6. Addition, Subtraction, Multiplication, Division and Fraction Practice.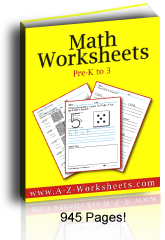 ---
---
Check out our main printable Math worksheets page.